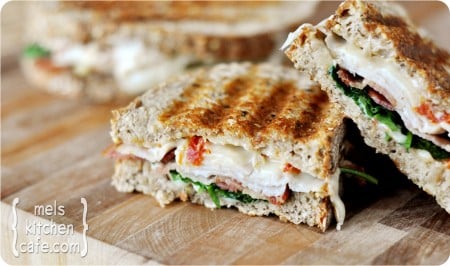 This is our favorite panini! So yummy. I used leftover Turkey from Thanksgiving.

8-12 slices bacon
1/3 cup sun-dried tomatoes, packed in oil, rinsed, patted dry and minced
1/3 cup light mayonnaise
8 slices thick-cut crusty bread
1/2 pound thinly sliced deli Swiss cheese
1/2 pound thinly sliced deli smoked turkey
3 cups baby spinach or arugula

Cook bacon until crisp.
In a small bowl, combine the sun-dried tomatoes and mayonnaise.
Lightly spread butter over one side of each bread. Lay the butter-sides down on a cutting board or work area. Spread each slice with the sun-dried tomato mayonnaise. Layer half of the cheese on 4 slices of bread then top with turkey, bacon, spinach (or arugula) and remaining cheese. Top with remaining bread, butter side up.
Cook the sandwiches on a panini press, skillet or grill pan heated on medium heat for one minute prior to cooking. Cook the sandwiches for about 4-5 minutes per side, until they are golden brown and the cheese is melted. Repeat with remaining sandwiches. Serve immediately.